October 7, 2016
Classic Monster Kid Ads: The Moon Monster
If you grew up in the 1960s or 70s, and you read comic books or monster magazines, chances are you came across this ad.  You may remember it as an ad for the Absolutely FREE Giant Life-Size Moon  Monster (which was actually a black and white poster):
When you look closer, you'll notice this ad offered so much more than just the poster.  In fact, the poster is only one of the benefits of joining the Horror Fan Club! 
Look What you Get
Life Size reproduction of a Movie Monster (see above)
12 4×5 glossy photos of your favorite Movie Monsters:
Monster Fan Club membership card and Badge:
Official Club Bulletin showing latest Monster Films releases complete with pictures and stories!
Its all FREE when you join the Monster Fan Club
Membership Fee $1. 00 – No Dues or Other Charges
You'll note that this Fan Club was called the Horror Fan Club in magazines, but the four-color comic book version of the ad changed the name to the Monster Fan Club, presumably to get around the Comic Code Authority.  While the ad was CCA approved, all the paper you got for joining the club said Horror Fan Club regardless of whether joined the Horror Fan Club or the Monster Fan Club.  Doubtless, this led to plenty of head-scratching by those who joined through the comic-book ad.
But wait! That's not all!
Extra Bonus!  3 MONSTER MASKS
Terrifying life-like reproductions of Movie Monsters.
They're Ghostly. They're Frightening! 
All of this and a Money Back Guarantee too!   Of course, what the ad didn't specify, the masks were actually pictures of monster masks.  All in all, the entirety of the Fan Club package consisted of pieces of paper and a pin-back button, making the membership kit actually worth about the one dollar membership fee (plus postage).
I stared at this ad for hours, month after month,  year after year, but I never joined the club or knew anyone who did.  In retrospect, I'm sure I would have been disappointed in the reality of these items.  Like most of the novelties advertised in comic books and monster magazines of that time, the ads fueled my imagination and I cherish them for it.
---
More recently, multi-media artist Jason Willis pulled all of this nostalgic greatness together into one multi-media treat for us in one of his annual Halloween projects.  Watch his version of  a TV spot for the Horror Fan Club below and then visit his website to download your own Horror Fan Club life-like monster masks and member kit:
Moon Monster – Animated Horror Fan Club Spot (Comic Book Ad, 1970) from Jason Willis on Vimeo.
So what about you, reader? Did you ever succumb to the siren's call of this magical Fan Club? Did this incredible life-like giant monster poster adorn your bedroom wall?  Did you found a local chapter of the Horror Fan Club in your basement? Share your memories with us in the comments section below or on our Facebook page.
---
January 8, 2016
We Celebrate More Than Just Classic Monsters Here!
We celebrate all the things that made the 60s and 70s a great time to be a kid.  We took some time off during the holidays last month, so this is getting to you a bit out of season, but we knew you would enjoy this story nevertheless.  After all, Monster Kids love Christmas and the holidays too!
This is the story of what happened to the stop-motion puppets used to make the classic Rankin/Bass Christmas special Rudolph the Red-Nosed Reindeer.  
Turns out that, in the early 1960s, stop-motion puppets weren't considered that important. The 9-inch tall Claus and 5-inch tall reindeer puppet that were used in the making of this 1964 Rankin/Bass production wound up spending the next 40 years under less than ideal conditions.
First NBC (which initially aired this holiday special on December 6, 1964 on its General Electric Fantasy Hour program) had these puppets shipped from Japan to New York City so that they could then be used as part of the publicity campaign for this program. Once that work was done, Santa and Rudolph were returned to Arthur Rankin, Jr. and Jules Bass (i.e. the two executives who ran Videocraft International, Ltd., the production company that actually made Rudolph the Red-Nosed Reindeer). And eventually Arthur and Jules gifted these two puppets to one of Rankin/Bass's longtime secretaries.
"And she then made Santa and Rudolph part of her family's holiday decorations," explained Seamus Walsh, one of the modern stop-motion masters who now works at Screen Novelties, a Los Angeles-based animation studio which later played a key role in these puppets' restoration. "And that secretary's children and grandchildren then spent the next 40 years or so playing really roughly with Rudolph and Santa. Throwing that little reindeer puppet through the air pretending that he could fly and force-feeding Santa candy and chocolate."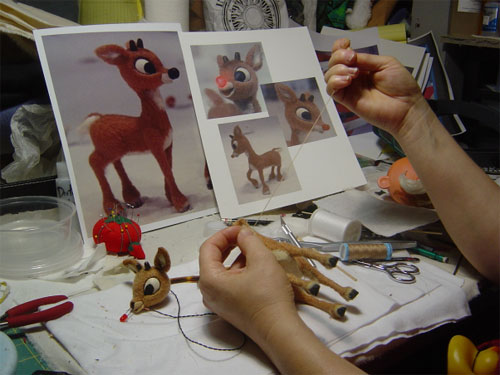 In the end, the Rudolph puppet wound up with a snapped neck. Not to mention a missing glowing red nose. And poor Santa lost his fluffy white eyebrows as well as half his mustache. And since that they no longer looked like the characters who had appeared in that now-classic holiday special, Santa and Rudolph were now retired to the attic.
And they probably would have stayed there — alone and forgotten like those forlorn playthings on the Island of Misfit Toys — if it hadn't been for the secretary's nephew, who stumbled upon Rudolph and Santa up in the family's attic in 2005.  He decided to bring this stop-motion puppets on PBS's Antiques Roadshow and find out what they might now possibly be worth.
At that time, Santa and Rudolph were appraised for $8,000 – $10,000 for the pair. The secretary's nephew then decided to sell these holiday icons to Kevin A. Kriess, a lifelong fan of the Rankin/Bass TV specials. And Kriess' first goal was to restore these stop-motion puppets to pristine condition.
"Which is why Kevin then reached out to us. Or — rather — my wife Robin, who handles restoration for the Center of Puppetry Arts in Atlanta," Walsh continued. "And she was the one who then handled all of the restoration work that needed to be done on the Santa and Rudolph puppets."
Robin took an almost Hippocratic approach to this restoration project. Gently peeling back Rudolph's tattered fur to reveal the wood & lead wire armature that the talented Japanese artists who was originally built this stop-motion puppet back in the early 1960s had created.
"While my wife was working on Rudolph, I got the opportunity to look at this puppet up-close several times. I mean, how could I not? This was the character that actually inspired me to get into stop-motion animation," Seamus said. "But to be able to hold a huge piece of your childhood in your hand like that and then get a close enough look at Rudolph's hooves to see the tiny little holes where they'd used entomology pins to secure this puppet's feet to the set. Or to realize that Rudolph's eyes were just these tiny pieces of leather that the Japanese animators had to then move around by hand in each shot, that was just mind-blowing."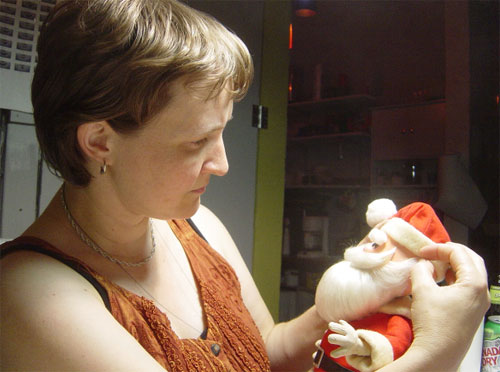 After repairing Rudolph's snapped neck and then cleaning off his fur (not to mention replacing that reindeer's missing glowing nose with a new energy-efficient red LED), it was now time for Ms. Walsh to turn her attention to the Santa puppet.
"Robin had to first do a lot of research to determine what kind of kid mohair had been used to create Santa's beard," Walsh stated. "She also had to figure out which kind of conservators wax and soap needed to be used to clean the candy stains off of Santa's suit."
In the end, Ms. Walsh returned Rudolph and Santa to Mr. Kriess looking just as good as they originally appeared in that 1964 Christmas special. And Kevin was so grateful that — for a time — he actually allowed this holiday icons to be displayed at the Center of Puppetry. Which — ironically enough — has been presenting an officially licensed puppet version of this Rankin/Bass special every holiday season since 2010.
Mind you, there has been an unexpected twist to this Christmas tale. You see, Kriess eventually sold Santa and Rudolph to noted pop culture collector Peter Lutrario. And the last time these stop-motion puppets were seen publicly was during a December 2010 broadcast of Syfy's Hollywood Treasures show. And at that time, Lutrario told Joe Maddalena — the owner of Profiles in History auction house — that he just wasn't ready to part with these holiday icons.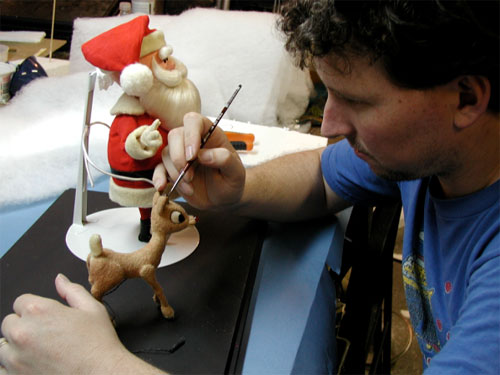 "Which is unfortunate. I mean, I'm glad that Santa and Rudolph are now in good hands and aren't being left to rot in some attic," Seamus explained. "But that said, I'd still love to see those stop-motion puppets to someday wind up in a place like the Smithsonian. So that thousands of people — rather than just one man — would then get to regularly see Santa and Rudolph and appreciate these puppets for the pieces of pop culture history that they are."
We're glad they are being well-tended to and hope that, like all private collections, they occasionally get a public viewing for the rest of us to enjoy.
December 18, 2015
Most Expensive Star Wars Memorabilia Ever Sold at Auction
In case you haven't heard, there's a little film opening this weekend called Star Wars Episode VII: The Force Awakens.  It's already the most successful movie in film history based on pre-opening ticket sales.   Despite it's mainstream commercial appeal, this is a film franchise for Monster Kids.
Thankfully, director JJ Abrams plans to return to the original trilogy roots with a heavy focus on practical effects.   To celebrate this most-welcome news, we thought it would be interesting to take a look at the most expensive props and costumes from the Star Wars movies (yes, even the prequels).  The folks over at JustCollecting.com compiled this list of the most expensive Star Wars memorabilia ever sold at auction – from Stormtrooper helmets to slave girl outfits, wookie heads to "weapons for a more civillized age".
If you're in the market for a piece of Star Wars movie history, you're going to need a lot of intergalactic credits…
20) Princess Leia's 'slave' costume
(Image: Profiles in History)
This outfit was worn by Carrie Fisher in Return of the Jedi, when Princess Leia is reduced to a slave girl by the evil Jabba the Hut following her failed attempt to rescue Han Solo. It originated from the collection of Richard Miller, a 30-year veteran with Industrial Light and Magic and the original designer and sculptor of the memorable costume.
The outfit was comprised of screen-worn, production-made rubber elements, along with fabric parts recreated from existing photographs. Described as the most complete and important version of the costume to have survived in private hands, the outfit sold at Profiles in History in October 2015 for $96,000 (inc. buyer's premium).
19) Return of the Jedi Stormtrooper helmet
(Image: Profiles in History)
Return of the Jedi featured more Imperial storm troopers than ever before, particularly for the battle scenes on Endor, so the production team produced around 50 new helmets based on the original molds used for those on The Empire Strikes Back.
The helmet was worn during filing by stunt performer Billy Horrigan, who also worked on movies including the original Indiana Jones trilogy. It remained in his collection for years following the production, and eventually sold at Profiles in History in July 2012 for $98,400 (inc. buyer's premium).
18) Empire Strikes Back Stormtrooper helmet
(Image: Prop Store)
When it came time to film The Empire Strikes Back, producer Gary Kurtz noticed the original Imperial Stormtrooper costumes from the first film were looking a little worn. Most of the helmets had been reconditioned and repainted, so a new set or around 8-10 helmets was ordered.
This example was one of the new MK II style helmets made during production. Although showing signs of excessive use, and missing its original communicator ear piece on one side, the rare helmet sold for $99,400 (inc. buyer's premium) during a Prop Store auction in September 2015.
17) Obi-Wan Kenobi's Cloak
(Image: Bonhams)
Based on Ralph McQuarrie's conceptual designs, the last of the Jedi Knights appeared as a nomadic monk rather than a great warrior. Not only is 'Old Ben' Kenobi's cloak indicative of the peaceful nature of the Force, it's also the only thing left of him after his battle with Darth Vader in Episode IV.
The iconic costume appeared in the first two original films, and then remained in storage in Los Angeles until the Bonhams auction in 2007 when it was sold for a price of $104,000 (inc. buyer's premium).
16) Stormtrooper DLT-19 heavy blaster rifle
(Image: Profiles in History)
This DLT-19 heavy blaster rifle was originally created for Star Wars: Episode IV – A New Hope by the British movie weapons company Bapty & Co. Based on a deactivated World War II-era German MG 34 machine gun, the rifle was one of four seen in a weapons rack in the communications room on the Death Star.
Just two of those rifles included Bakelite stocks as seen on this example, meaning there's a 50% chance it was the rifle used by Chewbacca himself during Princess Leia's prison break sequence. Having been restored to its screen-used appearance, this blaster rifle – the only one of its kind ever auctioned – sold at Profiles in History in July 2012 for $104,500 (inc. buyer's premium).
15) Darth Vader helmet & shoulder armour
(Image: Profiles in History)
Following the end of filming on The Empire Strikes Back, Lucasfilm sent this Darth Vader helmet and shoulder armour set to be replicated by N.J. Farmer and Associates. The company then used the production-made originals to create promotional suits, to be worn at the film's premier in May 1980.
The helmet then spent almost two decades in storage with the company, before being rediscovered, and sold at a Profiles in History auction in July 2012 for $110,700 (inc. buyer's premium).
14) X-Wing Fighter production miniature
(Image: Profiles in History)
As the Star Wars effects unit filmed the final climactic attack on the Death Star, they realised they were blowing up miniature X-Wing and Y-Wing fighters faster than they could make them. To save time, they started reusing parts from exploded models to create more cannon fodder for the Imperial guards (sorry Porkins).
This unpainted X-Wing filming miniature was created from a variety of screen-used components which survived the effects team's pyrotechnics. It was the first X-Wing production model ever offered at auction, and sold at Profiles in History in 2010 for $112,100 (inc. buyer's premium).
13) Darth Vader's helmet from The Empire Strikes Back
(Image: Profiles in History)
The second Darth Vader helmet to appear on the list was also used in the production of The Empire Strikes Back. It was created for use during the climactic fight scene between Vader and Luke Skywalker, during which Vader reveals (spoiler alert) he is Luke's father.
The helmet featured transparent cheeks and a modified grill, which enabled the Olympic fencing champion Bob Anderson a much clearer view whilst performing the fight sequences with Mark Hamill. It was sold at a Profiles in History auction in April 2003 for a price of $115,000 (inc. buyer's premium).
12) Darth Vader's Lightsaber from The Empire Strikes Back
(Image: Profiles in History)
Here's one of the most feared weapons in the galaxy – Darth Vader's lightsaber. This screen-used prop was used by David Prowse during production on The Empire Strikes Back -most notably in the climactic fight scene in Cloud City, in which the Skywalker family reunion goes slightly awry. Luke gains a parent and loses a hand, as Vader slices it off with this very weapon in one of the worst examples of father-son bonding in cinema history.
Originating from the personal collection of producer Gary Kurtz, this rare original trilogy lightsaber sold at Profiles in History in 2005 for $118,000 (inc. buyer's premium).
11) C-3PO's head
(Image: Profiles in History)
This original C-3PO helmet was worn on-screen by Anthony Daniels in his role as the faithful protocol droid throughout Return of the Jedi – whether it was translating threats for Jabba the Hutt, or being worshipped as a golden god by the Ewoks on Endor.
The helmet originated from the collection of Brian Lofthouse, who worked as prop supervisor on the original Star Wars trilogy and oversaw all elements of Daniels' complex C-3PO costume. It was sold by Profiles in History in December 2008 for $120,000 (inc. buyer's premium).
10) Chewbacca's Head
(Image: Profiles in History)
7' 3" tall actor Peter Mayhew was immediately cast as Chewbacca by simply standing up to greet George Lucas at a London audition. The character was based on Lucas' dog Indiana, who often sat next to him in his car like a 'co-pilot' (and who later gave his name to a certain Dr Jones).
This screen-worn Chewbacca mask, made from yak hair and mohair, was one of five used during filming and is currently the most valuable – having sold for $172,200 (inc. buyer's premium) at Profiles in History in July 2012. (Image: Profiles in History)
9) Luke Skywalker's X-Wing fighter model
(Image: Profiles in History)
This screen-used effects model X-Wing appeared throughout The Empire Strikes Back – identifiable as Luke Skywalker's fighter by the tiny model R2-D2 behind the cockpit. Bearing battle scars and blast marks, the X-Wing was used in numerous multi-element motion control shots during production. It sold at Profiles in History in July 2012 for $221,400 (inc. buyer's premium).
8) X-Wing fighter model
(Image: Profiles in History)
This exceedingly rare X-Wing fighter model was one of the few fully painted and finished models to emerge from the production of Star Wars in one piece. Most were damaged by pyrotechnic effects designed to simulate explosions during filming of the final assault on the Death Star.
Measuring approx. 22 in. long by 18 in. wide, the model was consigned from the collection of a multiple Academy Award-wining visual effects supervisor and sold at Profiles in History in December 2012 for $225,000 (inc. buyer's premium).
7) Luke Skywalker's Lightsaber
(Image: Profiles in History)
The lightsaber is one of the most iconic screen weapons in movie history – "an elegant weapon for a more civilised age" used by generations of Jedi knights. In 2008, the weapon used by Mark Hamil as Luke Skywalker in the first Star Wars film was sold at auction from the personal collection of producer Gary Kurtz. It realized $240,000 (inc. buyer's premium) at Profiles in History, an auction record for a screen-used lightsaber.
6) Han Solo's Blaster
(Image: Profiles in History)
"Hokey religions and ancient weapons are no match for a good blaster at your side, kid." Han Solo's weapon of choice may be a little more down-to-earth, but for collectors it was equally as desirable. Screen-used by Harrison Ford in both The Empire Strikes Back and Return of the Jedi, the blaster was described as "possibly the most exciting science fiction weapon to have been offered for public auction". It sold at Profiles in History in December 2013 for $246,000 (inc. buyer's premium).
5) Empire Strikes Back Snow Trooper helmet
(Image: Profiles in History)
Although numerous Imperial Stormtrooper helmets have appeared on the market, this unique example is the only Imperial Snowtrooper helmet to ever come to auction. Worn during the battle scenes on the ice planet of Hoth in The Empire Strikes Back, this helmet remained in original production condition more than 30 years later. It sold at Profiles in History in July 2012 for an exceptional $276,750 (inc. buyer's premium).
4) Imperial Stormtrooper costume
(Image: Christie's)
This set of Imperial Stormtrooper costume components features pieces made for both Star Wars and The Empire Strikes Back. The set was given to a teenage member of an amateur dramatics society in 1993, by another member of the group who had previously worked at Elstree Studios as a pyro-technician. Despite minor damage and restoration, the costume sold for an impressive $319,574 (inc. buyer's premium) at Christie's in December 2011.
3) Miniature TIE Fighter model
(Image: Profiles in History)
The second-most valuable prop on the list is another survivor from the first attack on the Death Star – a screen-used model TIE fighter. The fighter is known to fans as the one which collides with Darth Vader in the trench, allowing Luke to take his shot and sending Vader hurtling off into space to fight another day.
As a prop which changed the fate of the galaxy, the TIE fighter model commanded a top price at auction – a then-record $402,500 (inc. buyer's premium), realized at Profiles in History in 2008
2) Rebel blockade runner ship
(Image: Profiles in History)
This Rebel 'Blockade Runner' ship features in the first moments of Star Wars: Episode IV – A New Hope, as it comes under fire from a far larger Imperial Star Destroyer – perfectly capturing the central struggle of the story in a single opening shot.
The unique 16-inch miniature was filmed moving along the entire length of the Dykstraflex track (the world's first digital motion control camera system designed specifically for Star Wars).
It originated from the collection of Grant McCune, Chief Model Maker on the film's Miniature and Optical Effects Unit who won an Academy Award for his efforts. It was auctioned at Profiles in History in October 2015 for $465,000 (inc. buyer's premium), making it the most expensive Star Wars movie prop ever sold.
1) George Lucas' Panavision Camera
(Image: Profiles in History)
The most expensive piece of Star Wars memorabilia ever sold never even appeared in Star Wars – because it was too busy shooting it. This Panavision PSR 35 mm camera was used by George Lucas during principle photography of Star Wars: Episode IV – A New Hope in 1976.
It was later acquired by legendary Hollywood actress Debbie Reynolds as part of her famous movie memorabilia collection, and sold at Profiles in History in December 2011 for $625,000 (inc. buyer's premium).
courtesy of JustCollecting
November 20, 2015
As we enter the season of Thanksgiving, I want to express my thanks and appreciation for your support of this work in progress called Collecting Classic Monsters.
When I started this site last March, it was a simple creative outlet for me and a way to share my passion for these fantastical monsters and movies that I love so much.
As a way of expressing my gratitude for each of you, I've created the inaugural edition of the Collecting Classic Monsters Holiday Gift Guide as my gift to you and a simple way of saying thanks for your support.
Look for more details in next week's newsletter.  And have a great Thanksgiving week!
---
November 6
Godzilla Action Figure Collecting Guide
This video case study by Action Figure Resource was released prior to the 2014 Legendary Godzilla reboot and the announcement of the new Toho Godzilla film.  Still it provides a comprehensive review of the companies and toy figures released over the years an connects them with the relevant Godzilla films.  An interesting watch and good resource for getting a big-picture sense of Godzilla  figures released through the years.

---
October 30, 2015
These days, Halloween decorations run the gamut from garish and gory-decapitated rubber heads and smashed arms sticking out of car doors-to cheap and cheesy-fake cobwebs and tree-hung ghosts. But Halloween decorations made before the 1950s are subtly insidious and deeply weird. The old school decorations often feature haunting figures in twisting contortions, sporting leering smiles. Their bodies are crumpled up or stretched and their faces seem off and unsettling. Many of the pieces are downright demonic. Although these vintage decorations are rare, there is a small group of people who spend a great deal of time and money hunting them down.
"Most-but not all-of the Halloween items that collectors go after today were made by three basic sources: two American companies, Beistle and Dennison, and various German artisans who made holiday items to be imported to the USA between the two World Wars," explained Jason Walcott, a dedicated collector of old-timey spooky stuff.
These companies, back in the early part of the 20th century, weren't making Halloween decorations for kids. "Back in the 20s and into the 30s, if you were going to have a Halloween party, it would be adults throwing the party for other adults. They didn't want cute decorations," said Mark B. Ledenbach, proprietor of Halloween Collector and author of Vintage Halloween Collectibles. "They wanted something that would be unsettling and memorable for adults."
Vintage Halloween Collectibles -Third Edition
And that unsettling nature is the common theme in these classic decorations. Each piece seems to be a study in devious grins and perverse, impish nature. And for the collectors I spoke to, that's the whole point. "I think I am drawn to their darkness," said Brenda McNeilly, "in particular the ones from the golden era of Halloween. [Back then] the party favors and lanterns were less benevolent, and more malevolent in design and intent." These pieces, coming from rural Germanic towns and Germany itself, evoked a kind of creepiness that we don't see in today's decorations.
But collecting at this level isn't cheap-some pieces fetch more than $5,000. As Mark said, "You have to have some financial resources to truly delve into vintage Halloween." When I asked collector Cynthia Vogel if she ever had to sacrifice anything for her Halloween collection, she told me, "There have been years where I have purchased items for the collection that precluded me from doing other things such as vacations that most people would find enjoyable. But for me, acquiring a piece on my most-desired list is far more fun than any vacation I could ever imagine."
All the collectors I spoke with were careful to point out that collecting Halloween decorations is an art. And at this level of collecting (we're dealing with pros here) they don't purchase anything without inspection, meticulous grading, and a confidence that they could flip it to recoup their investment. As Brenda puts it, "I always make a conscious effort to pay no more than what I believe is a "recoverable price" for a top flight, museum-quality item." While some collectors don't purchase at all, "All the advanced collectors, they want what you have and you want what they have. If you can work out a trade, that's much more satisfying than money, which feels kind of mercenary," said Mark.
When people on the outside come to a collector's house, they generally have a whole lot of questions. "When it comes to Halloween memorabilia, most non-collectors look at me and say, 'Really?'" said Cynthia, "and then they begin to speak about their own pleasant childhood memories of Halloween. A lightbulb begins to shine and understanding begins to show." For a lot of non-collectors, seeing is believing. "People just don't get it until they see it," said Jason. And as Mark said, "There are people who collect and people who don't collect. I was always one of the collectors. If you're not a collector, there's nothing I can say to you to interest you in the collection, except to maybe throw out a value here or there and say, 'Look at this piece of cardboard. Did you know that this cardboard is worth $2,000?'"
Prices on these decorations always generate a lot of interest from outsiders. A quick search I did on eBay for Beistle Halloween
produced results with lots of cheap reprints and some staggering asking prices for originals, like a rare Beistle Halloween Party Decorations Book
 for almost $1,199. The value of these pieces comes from their rarity. Halloween decorations weren't preserved as carefully as those of other holidays. "No one cared about Halloween back in the 20s and 30s," Mark told me. "So if you threw a party, unlike Christmas decorations that were passed down and lovingly curated, on Halloween no one did that. So they were just ripped down and thrown in the garbage." Cynthia described, from that rarity, a broader appeal, "Most people, even if they are not collectors, appreciate the historical value of the items we collect."
After speaking with these collectors, I was impressed with the level of passion and dedication they give to their hobby, but not surprised. For some people, collecting in all its forms (baseball cards, vintage cars, comic books) can be "a means of control to elicit a comfort zone in one's life, like calming fears or erasing insecuritm." wrote Mark B. McKinley for the National Psychologist. "Some people collect for investment… some collect to expand their social lives, attending swap meets," and "for some people collecting is simply the quest, in some cases a life-long pursuit that is never complete."
Whatever the motivation, collectors love to collect. When asked what she would say to people who don't understand her hobby, Brenda told me, "They don't have to, and that's OK. It's my strange little obsession, and that's how I like it."
Photos by Jason Walcott
Article courtesy of  Vice.com
---
October 23, 2015
The action figures of Diamond Select Toys' Universal Monsters Select line are at home for Halloween, as three costumed kids come around looking for candy! See how each famous monster responds to the little monsters at their doorstep!
Stop-motion animation by Alex Kropinak (What The…?!)
Figures sculpted by Jean St. Jean, Gabriel Marquez and Rudy Garcia.
We'll be profiling this incredible line of modern toys of classic monsters in the near future, in the meantime…
Watch and Enjoy:

---
October 16, 2015
Last weekend, I was fortunate enough the attend the opening gala for a new exhibit at the University of Minnesota's Goldstein Museum of Design called America's Monsters, Superheroes and Villains featuring the toys, action figures, model kits and collectibles of our Monster Kid childhood.  All of the items on exhibit belong to collector David Barnhill who, with his associate Stephen Yogi Ruff have formed SuperMonsterCity! to celebrate the golden era of Monsters, Superheroes, and Villains by creating Touring Museum Exhibitions, Books, Postcards, DVDs and more.
Here are some of the pictures I took at the exhibit – I'll share more in the coming days.  If you're in the area between now and January 2016, add this free exhibit to  your must see list:
The Kirk Hammet Collection at SFO Airport
The name Kirk Hammet should be as well known among classic monster collectors as it is among hard rock fans. As the guitarist for legendary rock hand Metallica, Hammet, has amassed a fortune over the years.  As a fellow Monster Kid, he's spent much of that money exactly how you and I would – collecting classic monsters!
Kirk has shared his collection with other collectors over the years, through the fantastic 2012 coffee table book Too Much Horror Business, and now, through an exhibition at his hometown airport!
Watch the video and then book your flight to San Francisco to see the  Kirk Hammet Collection of Classic Monsters:


October 2, 2015
New Jersey writer recalls a monster-filled childhood
Author Mark Voger as Barnabas Collins for Halloween 1968.
They were "the monster kids," and back in the '60s, you could always pick them out.  They spent their allowances on plastic model guillotines. They ran home after school to catch "Dark Shadows." They stayed in Saturday nights watching "Creature Features."
Mark Voger, of Ocean Township, was one of these kids, and his artfully done new book is a love letter to this baby-boom phenomenon. Voger has a passion for those plastic monster models that kept so many boys off the street and painting with skinny-tipped brushes.
By Mark Voger  (TwoMorrows Publishing, 192pp., $39.95)

The oversized hardback is subtitled "The Creepy, Kooky Monster Craze in America, 1957-1972," and Voger casts his net wide, starting with the Eisenhower-era arrival of TV's campy horror hosts and ending with the Nixon days of "Beneath the Planet of the Apes."
In between are all the details, and lots of photos, of countless I-can't-believe-my-Mom-threw-that-out collectibles: "Addams Family" board games, "Vampirella" comic books, "Famous Monsters" magazines.
Voger's more than someone with a love for pop kitsch and an artful eye (he designed the book himself), though.  He's also a veteran journalist – first at the Asbury Park Press, now at the Star-Ledger – who was smart enough to keep his notes from decades of entertainment reporting.
Singer Bobby "Boris" Pickett talks about what happened when the real Karloff heard "Monster Mash": "He loved the record but didn't think it sounded a bit like him."
John Astin sticks up for those Addams family values: "Gomez is really me… The love of spontaneity. The appreciation of life."
And there's something deeply sweet and genuine about Jonathan Frid defending "Dark Shadows": "The variety of emotions and the complexity of Barnabas made him the most interesting character I've ever played, including Shakespeare."
There are some surprising facts, too, even for diehard monster fans (or like me, people married to one).  You might have known that Darlene Love was a back-up singer on "Monster Mash" – but did you know that Leon Russell played on the B-side, "Monsters' Mash Party"? Or that comic-book ghoul Uncle Creepy was modelled after British actor Alistair Sim?
The book, like a lot of art-heavy, small press editions, is pricey. And for a survey of the monster-movie era, it's a little light on the movies themselves. There are vintage interviews with comic-book artists and sitcom stars, but none with the modern titans of terror – Vincent Price, Peter Cushing, Christopher Lee – who were busy during the boom. Still, there are plenty of other stars and stories to ponder over.
And, as a lifelong Jerseyan, Voger also puts things in a regional context, sharing memories of how the nuns of the Camden diocese used to confiscate horror mags, or nights catching snowy broadcasts of monster-movie shows from Philadelphia's Channel 10.
"It's sad, pathetic, to say that monsters were our friends. (They were.) Or that we identified with these deformed, hated creatures who, after all, only wanted love. (We did.) Or that we saw ourselves when King Kong clutched Fay Wray; when Quasimodo supped from Esmeralda's urn; when Boris Karloff smiled pleadingly at Elsa Lanchester and caressed her bandaged hand, alas in vain… Monster movies made us contemplate the big stuff: birth, death, life, love, man's inhumanity to man, the afterlife, the immortal soul."
But that's OK. Any pop-culture craze that drove a generation to start reading Ray Bradbury, H.G. Lovecraft and Edgar Allen Poe – and kids like little Stevie Spielberg to pick up a movie camera, and a young Stephen King to start tapping away on a typewriter – is worth some hyperbole. And a lot of respect.
courtesy of NJ.com
Monster Mash is available at Amazon.com 
September 25, 2015
Collecting Treasures: Expecting collectibles' prices to keep going up is a losing bet
Collecting is a very personal passion.  It's also one that has potentially huge financial ramifications.  Many collectors don't consider, or at least focus on, the resale value of their collections because, quite simply, they can't imagine ever parting with their prized collection.  There's always that temptation though – family and friends who don't 'get it' will read an article about a comic book collection selling for millions after the collector's death and ask what your collection is worth.
Truth is, while you may have no intention of ever selling your collection, eventually it won't be your decision.  If you are lucky enough to have children or heirs in the next generation who share your passion, and you plan to leave your collection to them, then you're off the hook as long as you make the necessary arrangements in your estate planning.
If not, there is a real possibility that your collection will be sold and it's up tot you to decide how that will happen.  Will it be sold of piecemeal at an estate sale or will you make arrangements to have it auctioned off after your death.  The choice is yours but it only makes sense  that a collection you so lovingly accumulated during your lifetime should be thoughtfully included in your estate planning.  I came across this article and thought it was worth sharing.  Be aware that the author  is Josh Levine who co-owns J. Levine Auction & Appraisal in Scottsdale and EJ's Auction & Consignment in Glendale, Arizona.  His company profits from collectors selling and buying, so his focus is on helping sellers get he most return on the items they are selling – it's simply good business on his end.  Seven if selling is the furthest from your mind, the article is thought provoking.
Here's the article in full:
I am often asked, "When is the best time to sell my collection?"

And not to be one accused of keeping my opinions to myself, I say, "Strike while the iron is hot." What do I mean by that?

When you see record prices happening, sell your collection. Sounds obvious to most, but so often I hear, "I'll hold on to it. It can only go up from here," or "Imagine what it will be worth 20 years from now!"

I don't know if it's prospecting, greed, or something their parents ingrained in these collectors, but I think it's a losing bet. Let me cite a few examples.

Fifteen years ago, we were selling Hummel collections and prices were riding high. I would see collections in my travels and ask folks if they wished to consign for auction, and more often than not, the owners would decline. Their consensus was, this would never end, and Hummels would keep increasing in value.

Then about 10 years ago, large collections began to be sold off and we could see it coming quickly. The crash.

The collectors blamed the economy and kept waiting. And waiting. … It wasn't the economy, but simple economics. Huge supply, in this case, and no demand from the next generation. I have yet to meet a Gen X'er or Millennial that collects them. Most have no idea what they are.

The next example is toy trains.

A Pre-War Lionel Train set was money in the bank for a long run as they were desired by many collectors and enthusiasts spanning several generations. They all had a train set when they were kids, and had many fond memories of them. They sold like hot cakes, and there were many serious collectors.

Over the past five years, toy collectors' tastes have changed, and you can see the Hummel thing happening. A 2003 price of $12,000 for a Lionel Pre-War set is now $1,500 if you are lucky.

Some say it was video games that caused the younger generations to lose interest, and that really may be true.

What to do now? If you are thinking of selling a collection, sell it when it's hot.

What is hot in toys? Star Wars toys from 1977 through 1984 as well as most action figures from this period. Hot Wheels Redlines and AFX Aurora Slot Cars from the late 1960s through the early 1970s.

Let me give you my forecast. Star Wars is going to peak with this new movie release. It's a great time to sell your Star Wars collectibles.

Hot Wheels and Slot Cars are more urgent to sell as I feel they are going to go the way of the train set soon.

I hate when I see a collection that was just held on to a little too long. It's just like playing the stock market, but when they fall off the cliff, they don't recover to former glory.
courtesy of AZCentral     
---
August 7, 2015
Classic Monster Books
Movie Monsters ; Alan Ormsby (Scholastic Books, 1975)
As a 1970s Monster Kid, I was fortunate enough to have access to a wide variety of monster magazines and books.  Movie Monsters by Alan Ormsby was one of my favorites.
Pictured above is my original copy, well-loved and well-used.  In other words, it is far from collectible condition.  I remember getting my Scholastic book order at the end of the school day late during the Fall of 1975 with this book in it.  As soon as I got home from school that day, I recall  heading straight to my room to read this cover-to-cover.  I loved the illustrations and the easy step-by-step guide to monster make-up.
I loved this book so much, I even gathered the neighborhood kids and staged a production of The Monster of Frankenstein – which is the play included in this book (see story below).
Today, I thought we could stroll down memory lane together and review this book.
From the author:
Movie Monsters has three parts: The Greatest Movie Monsters – for your delight, information, and reference, page 3; How to make a Monster, including make-up and recipes for monsters, page 29; and How to Put On Monster Shows, page 63. Happy Ghouling!
Today's focus is on part one, the Ghoulery of Monster Greats:
Ormsby begins, fittingly, with a tribute to the Man of a Thousand Faces, Lon Chaney.
He invented monster make-up!
Ormsby continues his focus on Chaney, with The Phantom of the Opera (note my little sister's custom art work on the page):
From Sr. to Jr., Ormsby leaps right to my favorite Universal Monster, Lon Chaney Jr as the Wolfman:
Appropriately, Ormsby spends four pages on the Frankenstein Monster – discussing all the Universal movies up through Abbott & Costello Meet Frankenstein but, unlike his action on Dracula below, he focuses exclusively on Boris Karloff's portrayal of the Monster.
He continues with Karloff, in this feature on The Mummy:
The Frankenstein Monster may be the most popular monster. But King Kong is probably the greatest monster movie ever made.
Unlike the feature on Frankenstein's Monster, Ormsby focuses on both Bela Lugosi and Christopher Lee as Dracula, even titling the section "Two Draculas.'
Ormsby's focus throughout the book is on monster make-up and this iconic transformation of Dr Jekyll into Mr. Hyde was a favorite page of mine:
The first important female monster, the Bride of Frankenstein:
I've always loved this iconic image of the Gillman, and the superimposing of behind-the-scenes costuming enthralled this young monster kid– "so that's how they did it!"
It was the 1970s after all, and Ormsby's efforts at inclusiveness led to this focus on….Blacula!
Again, a tribute to the period in which this book was published, what reader of this book hadn't seen Young Frankenstein?
Next week, I'll cover part two of Movie Monsters, the fun and informative section titled How to Make a Monster – till then, hope you've enjoyed this stroll down 'Monster Kid Memory lane' as much as I have.
---
July 10, 2015
Monster Kid Memories
Like many monster kids of the 60s and 70s, I was enamored by the magic of movie monsters.  And thanks largely to Famous Monsters of Filmland, I learned about the magicians behind-the-scenes that made the movie magic happen– the special effect and make-up artists.  I enjoyed the actors who played the monsters, but I loved the artists who created them.
Fortunately for me, the mid-70s was a great time to be into monster makeup with kits and how-to books increasingly available.  One of my favorite guides came to me through the Scholastic book club at school in the fall of 1975 when I was 9 years old.
Movie Monsters ; Alan Ormsby (Scholastic Books, 1975)
Pictured above is my original copy, well-loved and well-used.  I remember getting my book order at the end of the school day and, as soon as I got home from school, heading straight to my room to read this cover-to-cover.  I loved the illustrations and the easy step-by-step guide to monster make-up.
With my parents' blessing, I began to assemble a make-shift make-up kit using an old fishing tackle box and some of my mom's old make-up.  We lived in Muskogee, Oklahoma, and would often head to the nearby big city of Tulsa, where they had a store featuring costumes and professional make-up for the stage.  I continued to build my make-up kit and to practice on my younger siblings and myself.
Included in this book was a section called "How to Put On Monster Shows" complete with script called "The Monster of Frankenstein!" and I quickly assembled a cast of neighborhood kids to stage our very own production in my garage that October.
As the Executive Producer, Director, Make-up Artist and chief Monster Kid, I played Dr. Frankenstein and my classmates and neighbors played one or more characters in the play.  We hung bed sheets in my garage and decorated with Halloween decorations.  I was such a nerd that I had my own science lab complete with chemistry test tubes, beakers and microscope, so making the laboratory was a snap.  I made a cassette recording of my Chilling, Thrilling Sounds of the Haunted House Disney record for our soundtrack and then we invited every neighborhood kid who wasn't in the play to come and watch.
The only pictures I have of that eventful day:
That's me in the white lab coat — as you can see the makeup was on the light side — more of a Werewolf of London style than the Wolf Man.  Can't say I remember why, exactly, because minimalism was hardly my style when I was 9.  Perhaps we simply ran out of time.  The Show Must Go On, as they say!
My younger brother was Mr. Skull, wearing a skull mask and almost in the picture to the left (these were polaroids, of course.  It was 1975 after all)
I'll share more pages from Movie Monsters in future posts — hope you enjoyed this walk down Monster Kid Memory lane as much as I did — Please share your Monster Kid memories in the comments section below.

---
June 26, 2015
Enjoy this in-depth profile of one of the classic monster comics:
Classic Monster Comics
Marvel Premiere #28
The Legion of Monsters (Marvel Comics Group,  February 1975)
Action in the Mysterious Marvel Manner!
Written by Bill Mantlo
Drawn by Frank Robbins
Inked by Steve Gan
Lettered by Karen Mantlo
Colored by Janice Cohen
The Most Spine-Tingling Team-up of All!
Once Ted Sallis, now The Man-Thing
Johnny Blaze, the Ghost Rider
Morbius the Living Vampire
Jack Russell, the Werewolf by Night
About Marvel Premiere #28
In its nearly decade-long run (1972- 1981), Marvel Premiere served as a proving ground for a host of new characters. Iron Fist, Woodgod, Caleb Hammer, and many others made first appearances in Marvel Premiere. Other characters, like the Falcon and Jack of Hearts were featured here in their first solo stories. And yes, Marvel Premiere was also the venue at which Alice Cooper made his first comic book appearance.
Marvel Premiere #28 is a delight for classic monster comics lovers delight as it combined many of the Marvel Monsters into a super-team of sorts – Ghost Rider, Morbius, The Man-Thing and Werewolf by Night all had solo comic titles at the time and since team-ups were all the rage in super hero titles, it only made sense to capitalize on that with a monster team-up and Marvel Premiere was designed to test new concepts.  The Legion of Monsters only made one appearance in Marvel Premiere and didn't spin off into their own title.
in the early 1970s, Marvel had been publishing multiple black-and-white horror anthology monster comics in the magazine format under its Curtis Magazine imprint as a means of bypassing the Comic Code Authority but they had canceled most of those titles by 1975 to focus more on super hero, action and science fiction genres.  Following the Marvel Premiere issue, Curtis launched a stand-alond magazine titled Legion of Monsters  in an effort to consolidate all their classic monsters comics titles into one magazine.  The new line up was more horror-based (Ghost Rider was out; Manphibian and the Living Mummy were in) but unfortunately only one issue was ever published.
Read more about the Legion of Monsters on Marvel Comics Wikia.
Collector Value:
NM grade copies of this book are valued at $30.  My personal copy, which you see in the scans in this post, is in Fine condition and worth around $7.
Click here for current eBay listings for this comic